Food, Drink & Entertainment
We have two pubs/bars with restaurants that serve very good home-made food (using local produce wherever possible), two takeaways, a new tea room, 4 well-stocked shops and a market garden, so there's no shortage of food and drink. And with a range of talented musicians on the islands, there's often some very good music to listen to.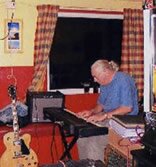 Drop by the Kettletoft Hotel on a Sunday afternoon and you may well find Tony Lee's Sanday Jazz Quartet performing, and also other local folk and rock musicians.  The Sanday Fiddle Club performs classical and folk music regularly throughout the year and the Sanday Singers give the occasional concert of mixed light and classical songs, usually during the Arts Festival in September.  Local artists put on an exhibition during the Arts Festival too ? some of their studios are on the local Visitors Trail.

The news and events page will alert you to any events, and when you're in Sanday you can check out local notice boards in the shops and the local newsletter. The Sanday Sound, to find out what?s on .

If you are after a nice drink and a snack or a full blown meal, you'll get a warm welcome from Mark and Julia at the Kettletoft Hotel at any time of the day.  Julia serves a varied menu of hearty meals and a range of puddings to die for, while Mark makes sure there's plenty going on in the pub, with live music, quiz nights, pools and darts evenings, karaoke and other entertainments.  Children are welcome and catered for.  Take away food is also available from the Kettletoft on Wednesdays and Saturdays.  Tangles at the Kettletoft offers an à la Carte menu on Friday evenings (begins August 17th, 2007.)
If you'd rather have a slightly quieter time, with no less a warm welcome, pop across the road to the Belsair, where John and Elizabeth are at the helm.  The Belsair is open all day and serves teas, coffees and freshly cooked lunches and evening meals. It is also licensed and has a pleasant bar.
Vegetarians are very well catered for at , hosted by Maggie and Paul. Pre-booking is essential, telephone . Backaskaill also provides Bed and Breakfast and Self Catering accommodation, as well as an all day coffee shop.
And you can also have a very pleasant, reasonably priced, three course evening meal at Ladybank, our only 3-star B & B, if Denise is not busy with her resident guests.  You?ll need to phone ahead to see if she can accommodate you.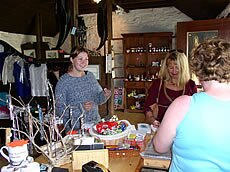 stocks locally made jams and preserves, Orkney beer, and crabs and lobsters when in season.  At the weekends, Paul and Julie Allan, who run the Craft Shop and Ayre?s Rock Hostel, provide a take away service from the . It?s worth keeping an eye open for notices of themed nights. New in 2008 is a regular breakfast service.
Also at Ayre's Rock: Introductory Courses in the craft of spinning. Learn to spin the old fashioned way, using raw local sheep fleece on a traditional spinning wheel, with The Sanday Spinners. Small groups. Course dates available throughout the year. Courses also available on demand, please contact either Ayre's Rock or The Sanday Spinners.
Header, Sanday Fiddle Club and Ayre?s Rock Craft Shop - © Rosemary Seagrief
Tony Lee on keyboards at the Kettletoft - © Heather Collinson
Catriona Skea, Kelly Brown and Richard Thomson - © Heather Collinson