How to get to Sanday
Sanday is one of the most northerly of the Orkney Islands, a ferry ride or a flight away from the Kirkwall on the Orkney mainland.  Getting here involves a variety of transport, but don't be daunted by it ? take your time and make it all part of the adventure.
The direct ferry from Kirkwall Pier to the Loth terminal in Sanday takes about an hour and twenty minutes.  Passenger fares are about £13 return, and taking a car costs from £31.70 (Orkney Ferries - - www.orkneyferries.co.uk) (Prices at May 2008)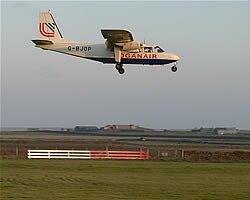 Flying direct from Kirkwall airport to Sanday takes about 11 minutes and a return flight costs about £65. There are usually two flights per day and they are well used by the islanders, so book early (LoganAir - - www.loganair.co.uk).
If you have your own private plane or helicopter you can land on the Sanday airfield, but need to notify the local council on .

But first you have to get to Mainland Orkney by air or sea. 
You can fly by British Airways partner LoganAir to Kirkwall Airport from Aberdeen, Edinburgh, Glasgow, or Inverness.  For further information contact:
British Airways - 0845 7733377 - www.ba.com
LoganAir - - www.loganair.co.uk
Or you can take one of the four ferry routes operating out of Aberdeen, John O'Groats, Gill's Bay and Scrabster (near Thurso):

John O'Groats Ferries operates a passenger only service during the summer months and travels between John O'Groats and Burray. For further information contact: John O?Groats Ferries (passenger only) - - www.jogferry.co.uk

Northlink passenger and car ferries operate two routes ? one from Aberdeen to Kirkwall and the other from Scrabster to Stromness. This service operates all year round.  For further information contact:  Northlink Ferries - 0845 6000449 - www.northlinkferries.co.uk

Pentland Ferries operates a passenger and car ferry service between Gill's Bay on the mainland and St Margaret's Hope in Orkney all year round. For further information contact: Pentland Ferries - - www.pentlandferries.co.uk
Header photo of Start Lighthouse - © Andy Sales
The ferry arrives at Sanday?s Loth Pier, with Eday visible in the background - © Roderick Thorne
LoganAir Islander plane coming in to land at Sanday airstrip - © Roderick Thorne